Instituto Cervantes participates, as it does every year, at the European Cultures Week, organised by EUNIC, which this years will take on the matters of Sustainability and environment. Instituto Cervantes examines the matter of sustainability by presenting Madrid Río, a project of the restoration of the Manzanares river in Madrid, taking into account the similarities with the Athenian rivers, Iliso and Kifiso, and with the screening of two films online: Esquese Monelos y Doñana.
The digital screenings will be available here, https://video.fecha.gr
The films will be screened with subtitles in Greek and will be available only to users in Greece for a 24-hour period, from 00.00 on the 24th September 2020.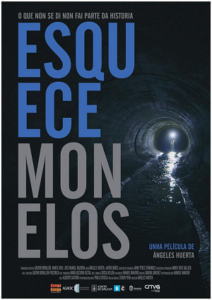 Esquece Monelos (Ángeles Huerta, España, 2017, 75′)
There are more neurons in a human brain than there are particles in the universe. But if we could line them all up, one after the other, the only thing we would see would be a small river; an insignificant yet infinite river. Under the streets of A Coruña there is a river that has been forgotten by many but which overflows from time to time, reclaiming its former course.
Doñana, cuatro estaciones
(Javier Molina Lamothe, España, 2014, 90′)
The Park of Doñana is a large nature reserve full of life, events, places and landscapes in a permanent change. A land that sheds its skin to adapt, and whose biodiversity and natural wealth are marked by the different seasons that cross them. A cycle repeated year after year, a long journey that reveals a variety of flora and fauna that find their refuge and make this country a natural ecological jewel. Located in the south of Spain, it consists of more than 100,000 acres of this natural spread over the provinces of Huelva, Seville and Cadiz.