Open-air Cinema Ellinis Cinemax
(29 Kifissias Av., Athens)
Thursday 25 Μay
21.15
ARGENTINA, 1985
(Santiago Mitre, Argentina, 2022, 140')
Official opening night film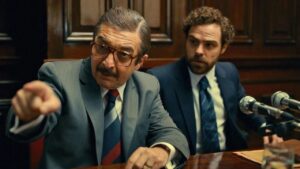 "Argentina, 1985" is inspired by the true story of Julio Strassera, Luis Moreno Ocampo and their young legal team of unlikely heroes in their David-vs-Goliath battle to prosecute Argentina's bloodiest military dictatorship against all odds and in a race against time to bring justice to the victims of the Military Junta. With Ricardo Darin. Nominated for an Academy Award
Trailer: https://vimeo.com/816280870
With coctails sponsored by Jose Cuervo.
Friday 26 May
20.50
STARING AT STRANGERS / NO MIRES A LOS OJOS
(Félix Viscarret, Spain, 2022, 107')
Screening with the presence of the director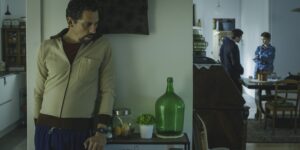 Damian has just been fired after working at the same company for 20 years. Following an angry and violent reaction, he runs away from his boss and hides in the first place he can find: a wardrobe loaded on a van. But the wardrobe, with Damian inside, is then delivered to Lucia and Fede, a couple of his age living with their adolescent daughter, Maria. That same night, a sudden impulse leads Damian to stay with the family and become a mysterious presence, observing and moving around in the shadows. Based on the novel by Juan José Millás.
Trailer: https://vimeo.com/819992661
23.00
OFFWORLD / APAGÓN
(Rodrigo Sorogoyen, Alberto Rodríguez, Spain, 2022, 90')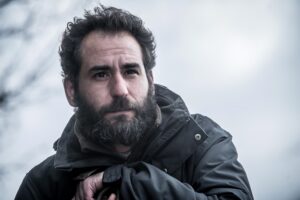 What would the world look like without electicity? Based on the popular podcast "The Big Blackout", OFFWORLD is new Spanish TV mini-series of 5 stand-alone episodes directed by some of the best Spanish directors of our time, who try to image a world without technology. We will get to see episodes by award-winning directors Rodrigo Sorogoyen and Alberto Rodríguez.
Trailer: https://vimeo.com/819970932
Saturday 27 May
20.50
STORIES NOT TO BE TOLD
(Cesc Gay, Spain, 2022, 99')
Screening with the presence of the director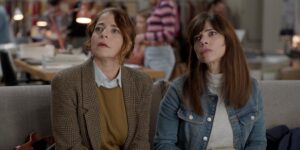 'Stories Not To Be Told' shines the comedic spotlight on those kinds of situations we've all found ourselves in, but which we'd rather no one ever knew about, or which we wish we could forget about altogether. Meeting that unexpected person, suffering a public humiliation or making an absurd decision. Five stories, a sardonic, yet sympathetic ode to humans' inability to govern our own emotions and not be able to stop, even though we know we should.
23.00
UNFINISHED AFFAIRS / LA MANIOBRA DE LA TORTUGA
(Juan Miguel del Castillo, Spain, 2022, 103')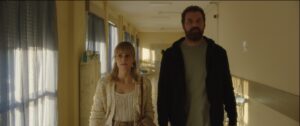 Based on the novel by Benito Olmo. Inspector Manuel Bianquetti is forced to accept a transfer to a police precinct in the south of Spain. His initially peaceful move will soon take a turn when the body of a young girl who reminds him of a terrible past is discovered. Despite the opposition of his superiors, Bianquetti sets out on a solitary crusade to find the culprit, following clues that might be just figments of his imagination. The only person on his side seems to be his neighbour, a fragile nurse who is harassed by her former partner. Trailer: https://vimeo.com/816464693
Sunday 28 May
20.50
BURNING COLD / EL FRÍO QUE QUEMA
(Santi Trullenque, Spain, 2022, 116')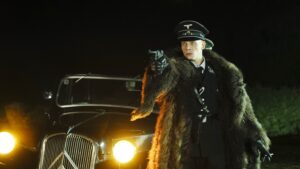 Winter 1943 in the Pyrenees. The echoes of World War II resound in the border village where Sara and Antoni live, a young married couple expecting their first child. The arrival of a family of Jews fleeing Nazi persecution will disrupt life in the valley. Sara must face a difficult decision: obey reason or follow her heart. The past and the secrets that the snow has kept buried for years are about to come to light. Trailer: https://vimeo.com/816475367
23.15
LA JAURÍA
(Andrés Ramírez Pulido, Colombia, 2022, 86')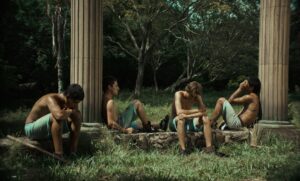 Eliú, a country boy, is incarcerated́ in an experimental minors' centre in the heart of the Colombian tropical forest, for a crime he committed with his friend El Mono. Every day, the teenagers perform strenuous manual labour and intense group therapy. One day, El Mono is transferred to the same centre and brings with him a past that Eliú is trying to get away from.
Monday 29 May
20.50
MY FATHER'S MEXICAN MARRIAGE / LA NOVIA DE AMÉRICA
(Alfonso Albacete, Mexico-Spain, 2023, 107')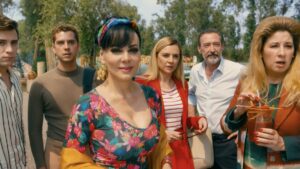 A father announces his offspring he is getting married in Mexico with a woman he met in a dating group a few months ago. Not only that, wedding is in Mexico. Both her children, and their mother's sister, go to Mexico to try to stop this wedding by all possible means. But reality in Mexico is always surprising for Europeans, and things turn out to be more complicated. Trailer: https://vimeo.com/819962094
23.00
PLAZA CATEDRAL
(Abner Benaim, Panama, 2021, 94')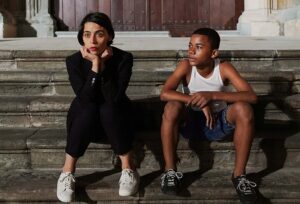 The life of a grieving 40-year-old woman changes completely when a 14-year-old boy shows up at her house bleeding. Panama's official entry to the Oscars. Trailer: https://vimeo.com/816464559
Tuesday 30 May
20.50
THE FINAL GAME / 42 SEGUNDOS
(Àlex Murrull, Dani de la Orden, Spain, 2022, 106')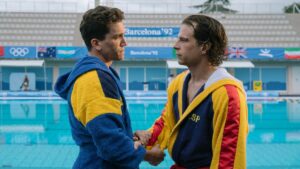 Based on real events starring Jaime Lorente "Denver" from "Money Heist". A few months before the '92 Barcelona Olympic Games, it looks like the Spanish water polo team will hardly make a splash during their home field Olympics. The national team is a battleground under attack on two fronts: the harsh techniques of their new coach, which threaten to incapacitate more than one player, and the infighting between leaders Manel Estiarte and Pedro Aguado. Can the team stay united and overcome their personal differences? Will reaching sporting glory be possible in the face of such adversity? Trailer: https://vimeo.com/819979751
23.00
DIVE
(Lucía Puenzo, Argentina-Mexico, 2022, 95')
Based on true events with Karla Souza from "How to get away with murder" Mariel is a veteran competitive diver who has one last chance at the Olympics. However, when a terrible truth surfaces, Mariel has to confront her biggest personal dilemma yet: is winning really her ultimate dream? The film was shot in Greece. Trailer: https://vimeo.com/819953913
Wednesday 31 May
20.50
75 DAYS / 75 DÍAS
(Marc Romero, Spain, 2020, 130')
Official closing night film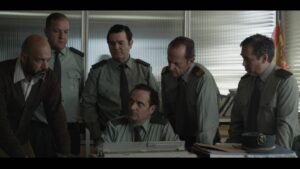 Based on real events. On Friday, December 13th, 1992, three 14 years old girls mysteriously disappear when they head to a disco in a nearby town. 75 days later, their dead bodies were found in an advanced state of decomposition, half buried in the undergrowth. 30 years later, director Marc ROmero examines the case that shocked a nation. Trailer: https://youtu.be/dHciDl1znFs
23.15
RAMONA
(Andrea Bagney, Spain, 2022, 80')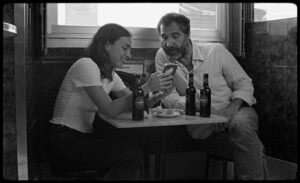 Ramona has just moved to Madrid with her boyfriend Nico and wants to be an actress. When Ramona meets the charismatic Bruno on one of her strolls through the city. Will an innocent flirtation get in the way of her career dreams and the perfectly good relationship she has with her boyfriend? It never occurs to her that she might encounter him again the following day. A refreshing romantic comedy that sets the scene for the immortal feud between sense and sensibility. Trailer: https://youtu.be/MOLvsRt6FAY